Currently the word is experiencing a pandemic that has turned people's worlds upside down. We have seen kindness from neighbours and strangers towards us that we rarely normally experience. Respecting personal space and boundaries, smiles and well wishes towards the whole world. We have witnessed compassion, respect and kindness towards key workers some of us took for granted.
It has been uplifting to see businesses opening homeschooling resources for free, restaurants delivering food to vulnerable families in isolation and hotel opening their doors free of charge to NHS workers and homeless.
As a small media business, we wanted to give what we could in this time of crisis and we have decided to spread a little kindness, a little relief for those of which have had to postpone their special day.
Our contribution
We will provide 'Delay the date' wedding invitations for couples who have postponed due to the coronavirus, either because their suppliers cancelled, for the health of their friends and families, or due to financial loss.
To apply, email us at design@bluesapphiremedia.com please use your "surname + wedding" as your email subject. (Eg 'Smith Wedding')
You will be asked to complete a brief information form that takes up to 5 minutes and supply a copy (a photo is fine) of your original invitations.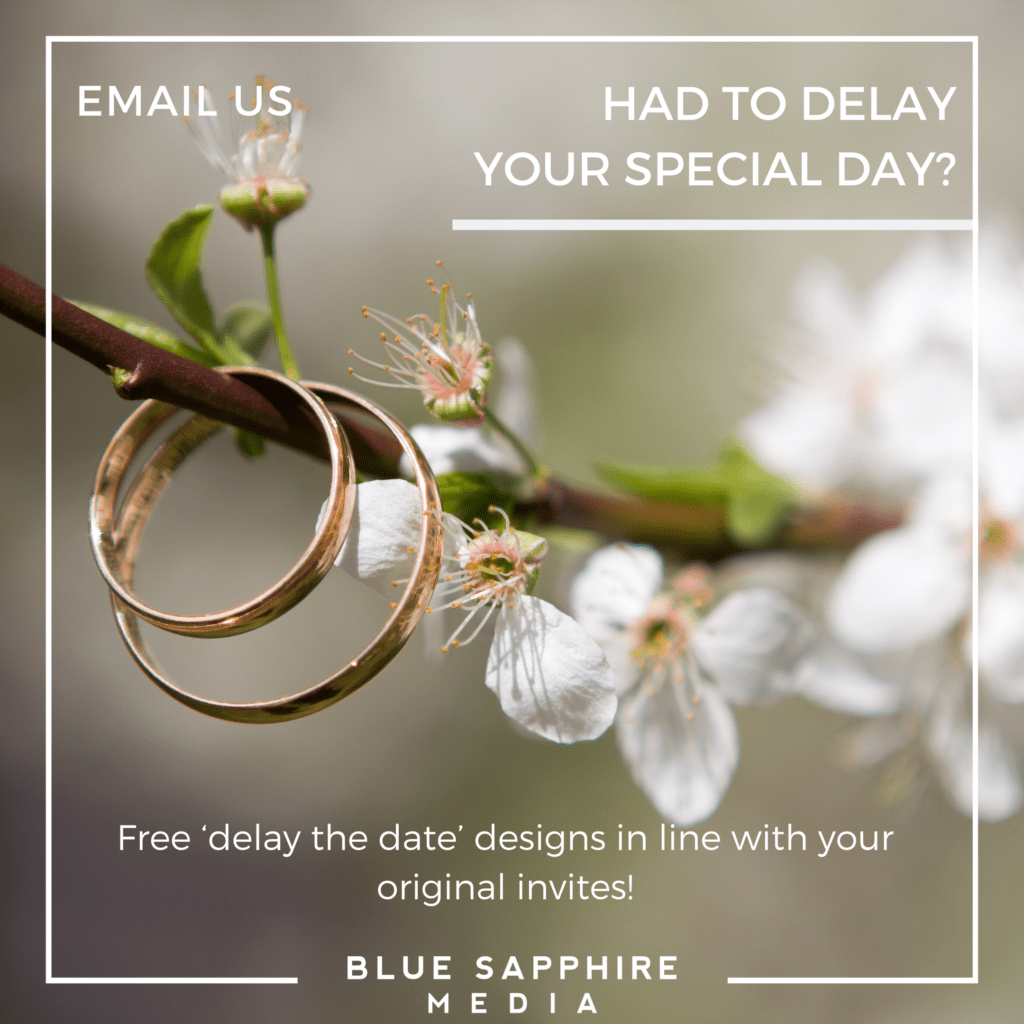 *Term's & Conditions apply.
Valid for all 2020 weddings and weddings before 30th June 2021. (If you have had to delay further, please contact us)
Limited to the first 50 enquiries.
Also…
We recently completed a website design for a bridesmaid dress supplier, Kate's Dresses. Looking for a clean fresh look for their eCommerce website, we redesigned www.katesdresses.co.uk for easy management and usability. It was an absolute pleasure working on this website design as we got to see all the beautiful gowns available! If you're still looking for bridesmaid dresses for your special day, visit www.katesdresses.co.uk
We also offer graphic design services year-round in Plymouth, (not just during pandemics!) so if you have another project you would like to discuss please contact us at hello@bluesapphiremedia.com or call 07716051514.
We are still offering all our services during this time including website design, SEO, Social media services, advertising and more. We are happy to discuss delayed start dates if you wish to have everything in place for when everything is back to normal!